Why Join Our Flexible Corporate Golf Membership?
Learn what flexible corporate golf membership is and why your business should join PlayMoreGolf's model instead of the traditional 'single club' corporate golf membership.
---
Contents
1. What is a corporate golf membership?
If you've ever thought about using a few rounds of golf to entertain your clients or reward your colleagues then a traditional corporate golf membership could be the way forward.
A corporate golf membership is designed to help businesses of any size entertain clients and prospects or reward your employees and staff with rounds of golf. Each golf club's terms and
conditions vary, but many corporate memberships entitle you and a set amount of 'guests' to a number of allocated rounds of golf within a 12-month period at your home club and (sometimes) at a small number of other courses.
Some corporate golf memberships also offer the same perks to traditional golf memberships, so you and your guests are free to utilise the discounts available in the clubhouse and shop, whilst discounted or even free conference rooms are sometimes offered onsite if you plan to host a meeting.
2. What is a flexible corporate golf membership package and why should I join one?
A flexible corporate golf membership is also primarily targeted at businesses that are looking to offer rounds of golf as a way of entertaining clients, prospects, and partners or as rewards for their employees. A flexible membership, however, offers all the benefits but at a much lower cost and with a greater range of options.
Golf and business go hand-in-hand. You can learn a lot about a colleague or client from a few hours on the green. In addition to improving cohesion, morale, and friendships within your team, playing golf with clients or prospects can also contribute to forging important bonds as conversations and mutual interests are shared during shots – one of the only sports that allows you to take time between playing.
A flexible corporate golf membership can also open doors on the road and not just in your home area. You then have the option of allowing prospects and business contacts to know you're in their area and up for a game. With full access to club facilities, you can even take your newly forged relationship off the course and treat them to food and drinks in the clubhouse. (This is a great tactic to make them feel valued or to reward a colleague for their work.)
Finally, a flexible golf course corporate membership offers a range of networking possibilities nationwide. With PlayMoreGolf's flexible corporate golf membership, you're able to play on
over 250 courses across the UK, and not restricted to the same course every time. You could be connecting with a host of clients and prospects to start your journey towards a potential partnership wherever they are. Access to multiple courses can even create a stronger bond between your team and your other offices spread around the UK!
Need more reasons to introduce golf into your business? Here's how golf can improve mental health and reduce stress within your team.
3. How does a PlayMoreGolf flexible corporate membership package work and what is included?
At PlayMoreGolf, we have a number of flexible options that suit small, medium, and large businesses depending on how much golf you want to play. We can even help you to put together a bespoke option based on your exact golfing requirements. For just £1,750 (inc VAT), you'll receive 500 points to use for your business, with rounds of golf costing as little as two points, valid for a full 12 months.
Working alongside fantastic, traditional corporate membership benefits, your company will be able to entertain staff, prospects, or clients at their chosen home club and use their flexipoints across our network of PlayMoreGolf clubs in the UK.
View our interactive map of golf courses offering a PlayMoreGolf membership and build your business networks across the UK.
By signing up to PlayMoreGolf's flexible corporate golf membership, you're entitled to some great benefits including:
The ability to play on over 250 courses in the UK including premier courses such as the Celtic Manor Resort
The chance to play up to 250 rounds per year
Receive four associate memberships – each membership can entertain three guests
Simple online membership management and booking
A dedicated team of experts to look after your requirements and the admin
4. Why should I choose PlayMoreGolf's flexible corporate golf membership over a traditional corporate golf membership?
A PlayMoreGolf flexible corporate golf membership has several benefits over a traditional corporate golf membership.
Price
Our corporate membership package is cost-efficient in comparison to clubs' usual corporate membership package. Typically, a traditional corporate golf membership would cost between £2,500 – £5,000 (exc VAT) per annum, whereas our packages start from £1,750 (inc VAT).
We take care of your admin
Many corporate memberships don't offer assistance with your admin. Our team of experts are dedicated to making our service as efficient and smooth as possible. That's why we take care of all your admin. From contract renewals to point totals, we've got you covered.
Traditional corporate memberships are also tough to administer as the account holder/business sometimes doesn't know when and how often it's being used and who it's being used by, so calculations on the value the business receives are near impossible, causing issues and affecting productivity. With our corporate membership, golfers can book any of the 250+ courses within seconds, through their online account or app. This eradicates any abuse of the membership by staff and means all associate members have a central booking point that the account holder has control over.
More choice of golf courses
When you sign up to a traditional corporate golf membership, you're limited by which golf course(s) you and your guests can play on. Thanks to our flexible corporate golf membership, you've got access to over 250 courses across the UK, allowing for a larger networking radius.
With such a large number of playable courses comes a greater opportunity to open up your business on a national scale, enabling you to meet with prospects, clients, and teams from
other offices wherever they are in the country.
Relationship building
When it comes to business, clients love to feel special. Proving your willingness and flexibility to travel to your client's location and treating them to FREE rounds of golf at their
local golf club is a great way of showing you care. Our flexible corporate golf membership also entitles you and your guests to traditional corporate membership perks, so why not treat
your clients further with great food and rounds of drinks at the clubhouse?
An escape from the office
Sometimes being surrounded by the same four walls can get too much. Treating your colleagues, clients, and prospects with rounds of golf is a welcome excuse to step away from the office and enjoy some fresh air in the great outdoors. Many of our courses offer peaceful and tranquil surroundings; you're not just limited to the one golf club down the road.
5. Testimonials from PlayMoreGolf's golf members
Since its launch in 2016, thousands of golfers across the UK have chosen to join a golf club with PlayMoreGolf. Here's just some of the feedback we've received from our happy members  in this time
We decided to take out the PlayMoreGolf corporate membership in July 2018. The flexible membership is perfect for us as we like to entertain clients at our home club, Didsbury Golf Club, whilst also enjoy the occasional social round of golf between colleagues. By having four associates under one membership, we're able to entertain up to 12 guests which works great for networking and building relationships. The membership also gives us access to 250 golf courses across the UK, so if we're out of town we can also entertain clients on the golf course – we even took a trip to Celtic Manor earlier this year which was brilliant!
Tony Whitehead – Viewpoint
With work and busy private life, a traditional golf membership wasn't quite right for me as I felt I wasn't getting enough value; PlayMoreGolf's flexible membership works perfectly.
Anthony Stanley – Formby Hall Golf Resort
I signed up to PlayMoreGolf as they had a great promotion on. Having played a lot of golf last year on a pay as you play basis, and with the good weather, I was playing up to four times a week which proved costly. Having worked out the price of a round using points it can cost the equivalent of £8 to play, which is unbelievable value for money.
Andrew Banting – Herons Reach Golf Resort
6. How do I join PlayMoreGolf's flexible corporate golf membership?
Step 1
Speak to one of our expert members now on 0330 555 6555 and let us explain how a corporate flexible membership will benefit your business.
OR
Complete this form to find out more.
Step 2
Our team can put together a bespoke option for you based on your exact golfing requirements.
Step 3
Grab your golf clubs and start your business network across the UK!
7. Frequently asked questions about joining PlayMoreGolf's corporate membership
Q. How much does a corporate membership cost?
A. We offer two types of corporate membership that both come with 500 points; a home club corporate membership and a fully flexible corporate membership. The home club corporate membership costs £1750 which comes with 400 home points and 100 flexible points, and the fully flexible membership costs £1950 with 500 flexible points.
Q. What is the difference between the home club corporate membership and the fully flexible corporate membership?
A. Home club corporate membership = £1750
Associated to a preferred home club
Four associate memberships attached to your corporate membership
400 points to use at home
100 points to use at your home club and other golf courses in the UK
Home club benefits including: handicap, discounts, and competitions
You act as the gatekeeper and let people use points as you wish
Fully flexible corporate membership = £1950
Not associated with a home club
Four associate memberships attached to your corporate membership
You can use 500 points at other golf courses in the UK
Will not be able to enter competitions as there's no home club associated with membership
You can use points with who you wish
Q. Can I claim the VAT back?
A. If you choose the home club corporate option and both you and your chosen club are VAT registered then you can claim the VAT back. However, it's worthwhile checking with our
team if this is possible as quite often golf clubs are not VAT registered.
With our fully flexible corporate membership option it's possible to claim VAT back if you're VAT registered.
Q. What do I do if I use all my points up within the year?
A. Not to worry, you can simply top up with further points through your members dashboard when you login.
Q. How do I book a tee time?
A. You can book tee times online through our site or use our app with live tee time availability.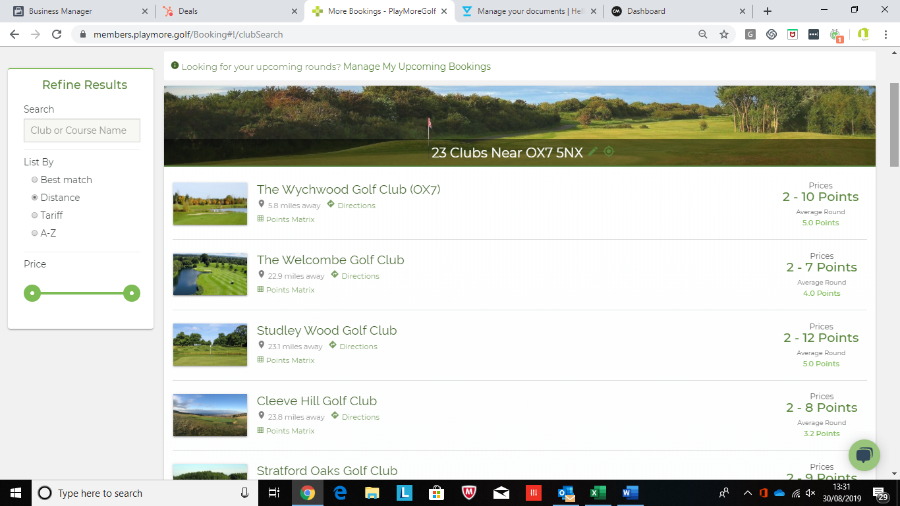 Q. How do I pay?
A. You can pay via invoice or card payment and your membership is live when payment is received.
Q. What happens to my points at the end of the year?
A. When you renew your membership, any home points you have left will carry over to next year and your flexible points will reset to zero. If you choose not to renew, you lose all points so please ensure you use them up by this date.
Contact us
If you're interested in benefiting by becoming a PlayMoreGolf flexible corporate member, fill
out our form, or call us on 0330 555 6555.